I honestly had a really long post planned out, but there's no point really. All there is to say is bravo.
Bravo to Nole for fighting like a true champion, bravo to him for playing some unbelievable tennis and then to top it off -- bravo to him for being humble, gracious and classy in defeat. Bravo to Rafa for also fighting like a true champion, bravo to him for rising to the impossibly high bar set by Nole and producing a level of tennis that only Rafael Nadal can produce, and bravo to him for being equally humble, gracious and classy in victory. Bravo.
The level of tennis last night was incredible, and so was their courage and character on court. Novak will undoubtedly be gutted, but after a performance like that, and indeed what he has achieved throughout this fortnight (he almost lost in the first round, remember!), he can hold his head up high with pride. And he did. As Rafa said in the trophy presentation, there is no doubt that other Grand Slams will be coming his way in the near future. He's back.
As for Rafa, of course this win is incredible for so many reasons. Not least because he has now won every single one of the biggest championships in tennis. Grand Slams, Gold Medals -- you name it, he has won them. The Tennis Masters Cup/World Tour Finals is the biggest trophy that has avoided the bite of approval thus far, and there is no doubt that Rafa will be gunning for it in November of this year. What I think is even more worth noting though, is the type of player he has become. Remember when he burst onto the tour as a 17 year old? Back then he was just a counterpunching claycourt specialist with great athleticism, a heavy topspin forehand and not much else. He has excelled so much since then in every single category and has become one of the most complete players on tour as well as probably the only player capable of bringing his very best tennis to every single surface. I think it's poetic justice that by far his best Grand Slam performance of the year (last night, duh) should come at the Grand Slam and on the surface that so many people said he would never win on. I would recomend everyone, fan or not, to read this article on Rafa from Brodie over at Mind The Racket. He sums it up better than I ever could. So for one last time; BRAVO!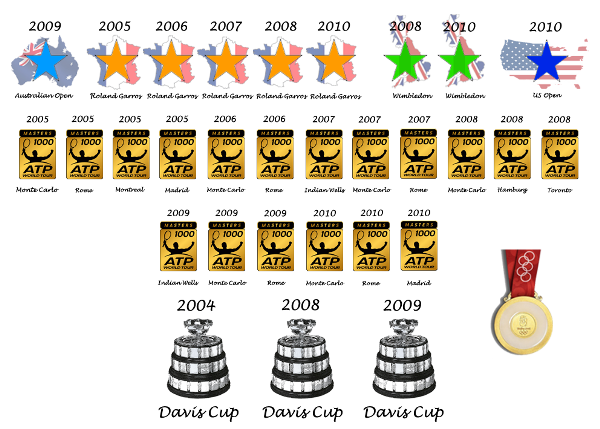 (Via. Menstennisforums)

Related posts: