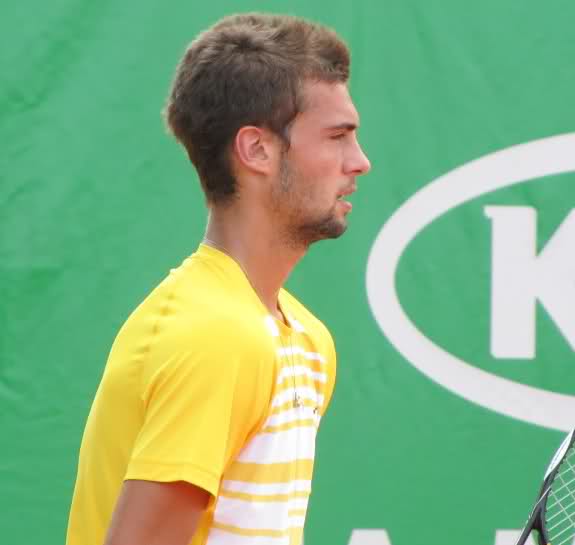 This week 21-year-old French talent Benoit Paire reached the finals of the San Sebastian Challenger event in Spain before losing to Albert Ramos-Vinolas. I know you don't know who the hell Benoit Paire is, and I don't expect you to. But he is someone I have been following for quite some time and he has probably become one of my favourite players, and so I will be educating you on all things Benoit Paire.
The first thing you need to know about Benoit is that he is a headcase. Just putting that out there. I know a lot of people seem to be attracted to headcases so there you go. I first watched him sometime around the beginning of this year and I was absolutely blown away by his talent and the way in which he plays tennis. Not to mention how laid-back he was on court. His serve is huge, gorgeous backhand, he effortlessly glides around the court, enjoys coming to the net and his dropshot is a weapon of mass destruction. It was complete mayhem as he aced at will, smashed backhand return winners, dropshotted, serve and volleyed and just perfectly executed every single low percentage and unimaginable shot in the book. After getting over the shock of how low he was ranked, I was so interested to see him play again. He played his next round the following day and he of course proceeded to dropshot himself off the court, playing them at the most ridiculous times and eventually losing easily to a player ranked far below him. Welcome to the world of Benoit Paire.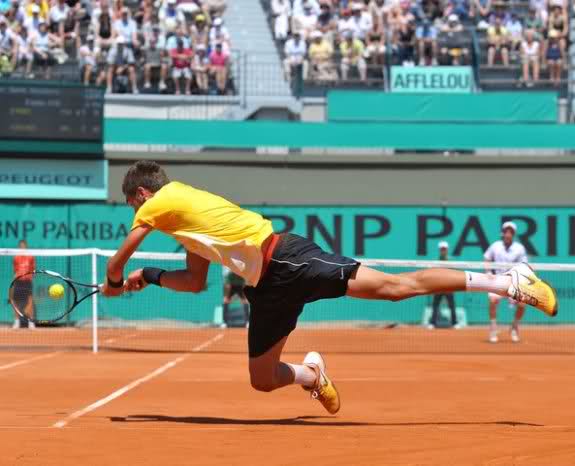 After watching him, I was immediately intrigued and so I decided to do a little homework on him. To say that the results were interesting would be an understatement. Here are some (translated) quotes from him and others about him:
"If I just keep the ball in play, I get bored. We play tennis to have fun too, so I prefer to try things, dropshots, etc. Sometimes it's brilliant, but sometimes, well, it's really hopeless. A bit of everything. I'd need to 'channel' myself to keep only the best and stop jeopardizing my chances unnecessarily." Source
"I'm here to have fun, but well, it's true that I should sometimes cut down the rubbish."
People must think I'm crazy. My philosophy is that if I have to play a point, try to play a beautiful one, no? But I've calmed down now. I'm better managed since I entered the CNE (France's National Training Centre) in November. The win over Elgin is my best memory so far, I had never played in front of so many people."
"He likes the game. He always wants to play a beautiful point. He has a very good serve, a beautiful two-handed backhand and he's very clever at the net. But he has incredible ups and downs. The Jedi of Star Wars. For me he's like Luke Skywalker when he started. I need to take him over to the good side of the Force. The only difference is that his role isn't to save the world, but to make the most out of his potential… Which is huge." -- Ex-coach, Jerome Prigent
"He must be the only player on the tour whose attacking shot is the dropshot"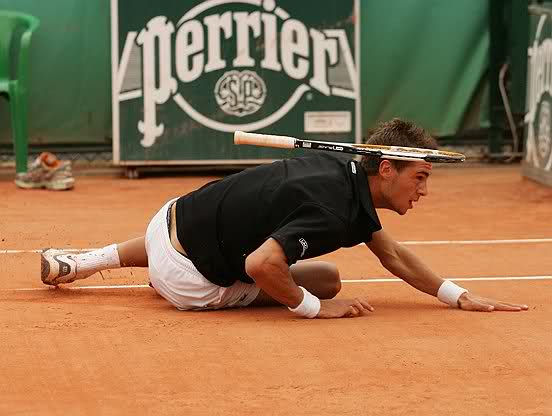 He is ranked inside the top 200 now and after qualifying for the French Open this year, he attracted some well-earnt attention. However, his stories were legend among French tennis players from even before he was in the top 1000. One of his most famous stories is from a day when he didn't want to go to a tournament. His coach insisted that he went, and so Benoit took his three racquets, broke them all, and said: "Are we still going now?"
As I said before, he puts so much personality into his game too. Two years ago Benoit played in the French Open qualifying. In the third set was down triple match point against Michail Elgin having wasted one in the second set. But he saved them in style, with a forehand dropshot from far behind the baseline followed by two serve and volleys. He won that game then the match and was given a standing ovation from the crowd. Elgin was disgusted and needed a cigarette after the match to settle his nerves.
There was also real controversy in his career when the National Technical Director, Patrice Hagelauer, kicked him out of the Integrated Training Center at Roland Garros last year because of bad behaviour and his temper on court. He was angry at first and refused to play tennis at all for two months, but eventually he calmed down and has since gone on to record the best results of his career thus far. Qualifying for Roland Garros this yeah and playing a tight match with Olivier Rochus was definitely one of the highlights, and it was also a middle finger to the FFT (French Tennis Federertion) who refused to grant him a main draw wildcard based on his past behaviour.
His results are still unbelievably inconsistent though -- one week he will make a challenger final defeating multiple top 100 players, and then the next week he will lose to the world number 988 in straight sets. However, he is making progress and there is no doubt that there will come a time in the near future when everything glues together and he will really break through. And we'll be waiting. Allez Benoit!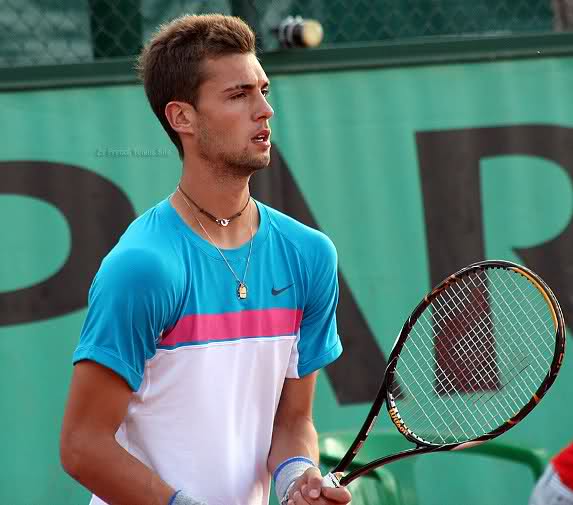 (Pictures: Ze French Tennis Site)

No related posts.