Tatiana Golovin was born on the 25th of January 1988 in Moscow, Russia. At 8 months old she moved with her family to Lyon and eventually settled down as a French citizen. She began to play tennis at 6 years old and from a young age her talent was undeniable. A year later Golovin was shipped off the Nick Bollettieri academy in Florida where she trained for seven years amongst the likes of Maria Sharapova, Jelena Jankovic and Nicole Vaidisova.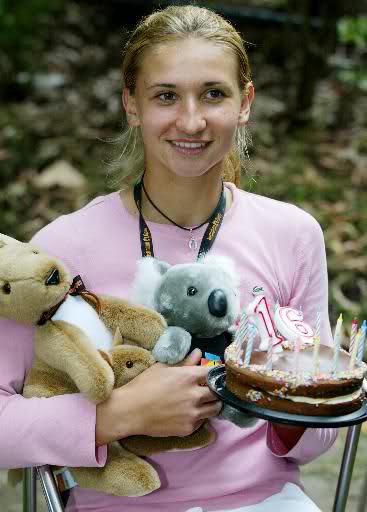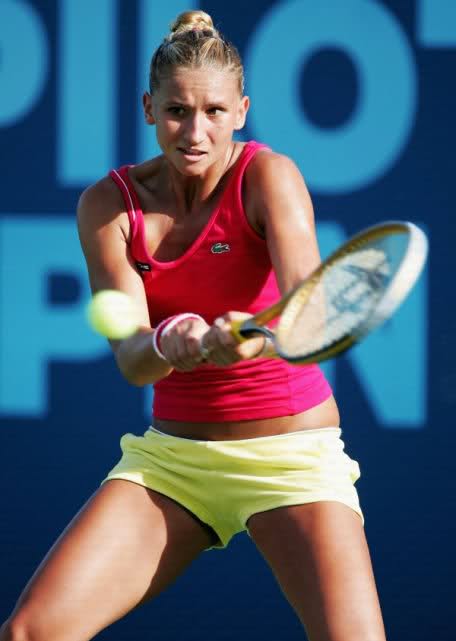 After turning her attention to professional tennis, Golovin immediately broke though. She was granted a reciprocal wildcard into the 2004 Australian Open and shocked the tennis world by waltzing into the fourth round aged only fifteen years old. Golovin followed it up impressively by immediately reaching the semi-finals of the Paris indoors event, defeating Elena Dementieva to snatch her first top ten win. The rest of 2004 saw Golovin reach her first tour final in Birmingham, quarterfinals in Montreal and Luxembourg, fourth rounds at Wimbledon and Miami. After breaking into the top thirty she participated in the Fed Cup finals where she crushed US Open Champion Svetlana Kuznetsova in straight sets. Tatiana Golovin had arrived.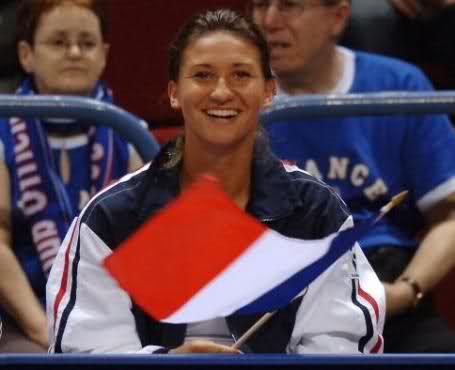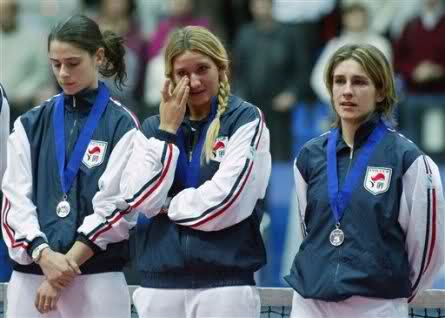 Despite reaching a final in Tokyo, her first Tier I semi-final (and a victory over Venus Williams) in Charleston and ultimately breaking into the top 20, 2005 was more about style than substance for Golovin as the charismatic young Frenchwoman began to attract attention for her trademark micro-shorts rather than her tennis. However, by 2006 Tatiana had made the decision the scrap the shorts and to commit fully to tennis, a decision which slowly began to pay off as she powered through to the semi-finals of the prestigious Nasdaq-100 Open in Miami.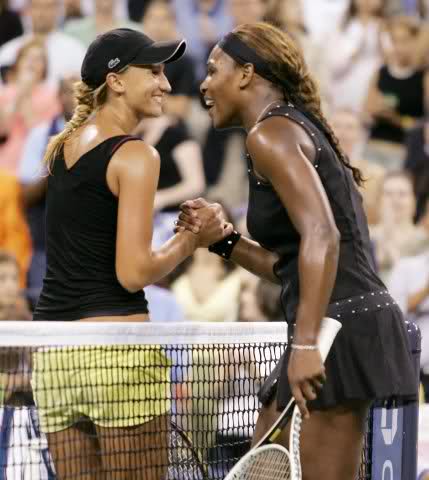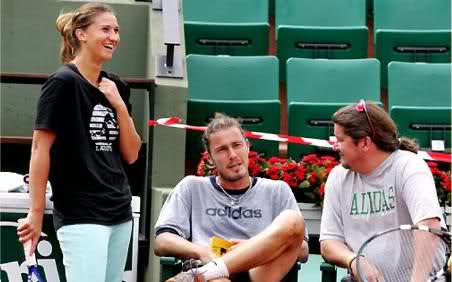 That classic Miami semi-final against Maria Sharapova has to be considered one of the most incredible, controversial and horrific moments of tennis in recent times. Sharapova raced to a 6-3 5-1 lead but Golovin clawed her way back into the match to win the set by a tiebreak, saving five match points at 3-5* with four 20+ stroke rallies. The third set was startlingly intense as the crowd gave Golovin countless standing ovations and excitedly screamed her name. Sharapova managed to break early but Golovin fought on and on break-back point at 3-4*, Golovin chased a ball out wide to her forehand side and crushed her ankle. It was a horrific sight and though she bravely attempted to play on, it was all in vain as was forced to retire in floods of tears.
What was so controversial about the match was that not only did Sharapova attempt to twice go for a toilet break in set two during Golovin's fightback, but Sharapova didn't even acknowledge Golovin's injury - simply turning her back on the situation and pouncing around at the back of the court, to which the media responded with outrage and criticism.
"Well, she is the way she is."
Tatiana Golovin on Maria Sharapova's behaviour in 2006
After a three-month break, Golovin was out of sorts until the US Open, where she raced through the draw to reach her first and only Grand Slam quarter final. She followed it up with her first tier II final at Stuttgart, but after crushing Nicole Vaidisova the following week in Zurich, she was forced to retire with yet another ankle injury.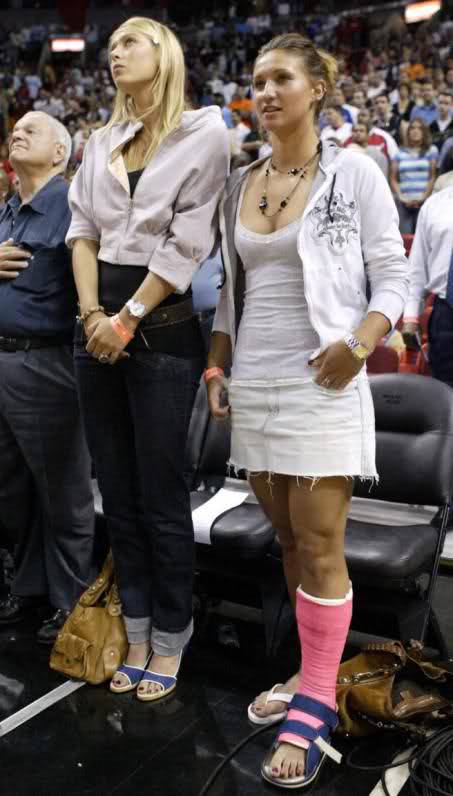 2007 was Golovin's last full year on tour and it turned out to be almost identical to 2006, as she won her first title in Amelia Island in April before sustaining another ankle injury the very next week. She came back three months later and after a poor return, she began regain her form following the US Open. She won Portoroz and then made the finals of Stuttgart and Zurich which propelled her to a career high of 12. Even with her injuries she had given herself an outside chance to reach the WTA Championships but they were immediately scuppered by an ankle/knee injury at Linz which forced to retire and finish for the year.
At the Australian Open in 2008, a 3-inch cyst was found in Golovin's hip and she was forced to withdraw from all following tournaments. After having surgery to remove it, she was informed that she had an extremely rare back condition. Tests were conducted throughout 2008 and after she travelled to Beijing with the intention of playing in the Olympics, the pain came back at very last moment and she had no choice but to pull out.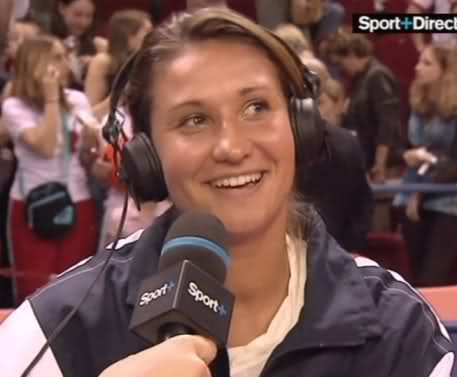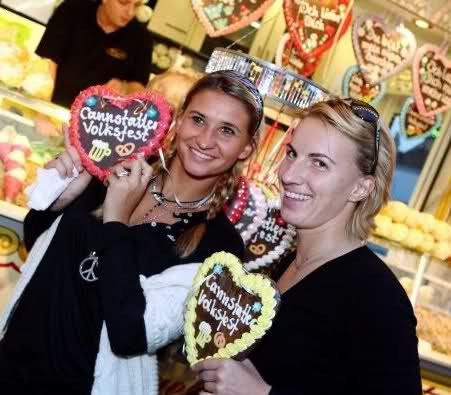 As such a charismatic and absorbing personality, Golovin has had many off-court interests too. Fashion has always been a big part of Golovin's career and she created controversy throughout her career for some of her outfits – namely her 'micro-shorts' in 2004 and the red knickers she wore at Wimbledon 2007. Following the French Open in 2008, Golovin was seen with two men within days of each other. It turned out that her boyfriend Samir Nasri had actually cheated on her with a young lady and they were not together at the time she was seen with Joakim Noah. In 2007 she also had her own show on Eurosport called Tatiana's World, and cameras followed her around the world and documented her every move. She was also snapped while smoking in front of a Volkswagen Polo. Bad times.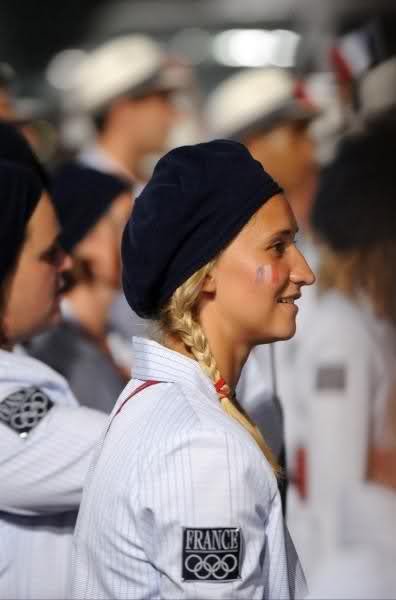 The back condition that has effectively finished her career is an arthritic condition known as Ankylosing Spondylitis and it as just as horrific as it reads. She has undergone countless tests and has tried many different techniques and treatments but over two years on, Golovin still seems no closer to returning to tennis. She has always refused to utter the word 'retirement' and even as recent as the French Open she mentioned that she was "watching players and thinking up strategies for when she returns to tennis", but she must be losing hope.
What is so tragic about her career is the fact that every single time she began to play well, without fail a nasty injury would manifest itself and she would be forced to start again three months later from rock bottom. As a massive fan of Golovin it has been so sad to follow her over the last few years with no progress whatsoever. She has gained fans around the world because of her looks, charisma as well as her great serve, gorgeous forehand and world class shot selection. We love you Tatiana!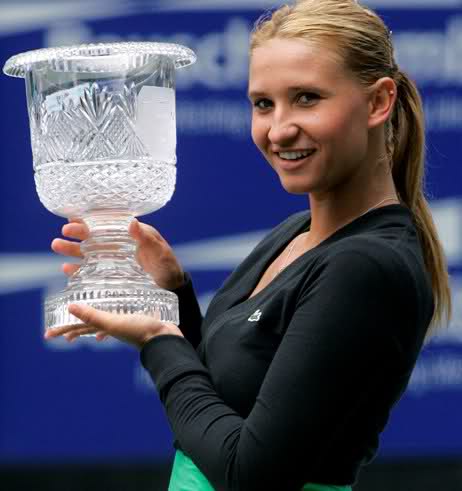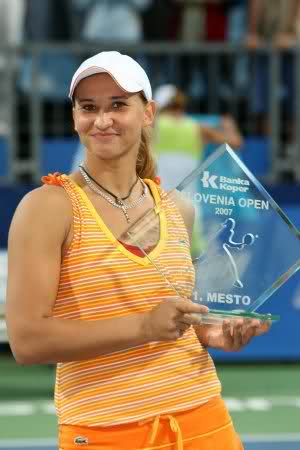 Related posts: