Daniel Koellerer has become notorious for his on court tantrums, drama and his inability to keep his emotions in check. So much so, that he is widely referred to as 'Crazy Dani' by fans and his contemporaries. The controversies he has been involved in include calling Brazilian player Júlio Silva a "monkey" and asking him to "go back to the jungle" while imitating a monkey, as well as insulting and provoking Stefan Koubek to the point where Koubek grabbed Koellerer by the neck and choked him at a changeover.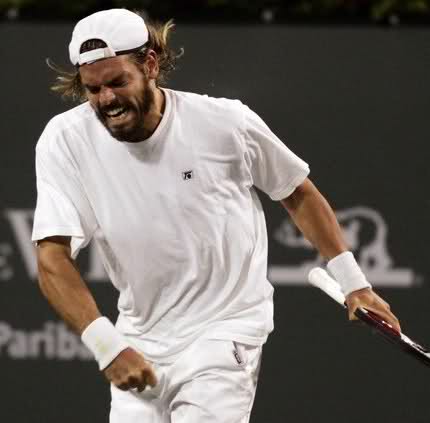 Yesterday in the first round of the Cordenons ATP Challenger against Robin Haase however, he took it up to a whole new level.
It all began when Haase was comfortably leading Koellerer 6-1 *3-2. After losing a point, Koellerer smashed his racquet and duly recieved a code violation from the umpire, to which he responded by smashing his racquet six more times. From this point on he became much more emotional and vocal as he began to halt almost every point - calling the umpire a 'pig', the linesman a 'blind c*nt', and he even hurled abuse at Haase on the other side of the net. Eventually he was deducted a point, to which he reacted by becoming even louder and throwing more insults around the court.
After becoming unsettled and losing his serve, Haase managed to regain his composure and established a 6-1 *5-4 40-15 lead. The match looked to be over, but as Koellerer continued to disrupt play and unsettle Haase, Haase reacted with a spectacular breakdown - netting an easy volley, hitting two double faults and then hitting a routine forehand into the net to gift Koellerer the game. As Koellerer shouted and screamed after after every point and Haase pleaded with the umpire to disqualify Koellerer, both men held firm to push the set into a tiebreaker. Koellerer eventually took the tiebreak 7-3 as he continued to intimidate and upset the Dutchman and a third set was on the horizon.
After the set, Koellerer decided to take a bathroom break. The bathroom break was lengthy, and as the baffled crowd muttered amongst themselves, the umpire jumped off his chair to see what was taking the 27 year old so long. Eventually Koellerer and the umpire both returned to court with the umpire repeatedly saying "no no no, you can't do that, it's against the rules" before jumping up onto his chair and issuing the Austrian with a code violation for coaching. It was his third of the day and consequently he was disqualified.
A fitting end to an unbelievably dramatic match. On one hand Koellerer's antics make for entertaining and fun viewing, but on the other hand it is just baffling how a 27 year old man can act in such a manner. It isn't to say that he had just one moment where a load of repressed anger exploded to the surface, for example Serena Williams at the US Open, but this has been the norm for Daniel Koellerer throughout his career. Did he have a dysfunctional childhood? Does he have some kind of mental disorder? Did a previous event in life trigger this behaviour? Questions like these really need to be asked and dealt with or else he is going to grow up to be very lonely in later life.

No related posts.