Reger Federer downed Tomas Berdych in a dramatic three-set match on Friday. The 16-time-Grand Slam Champion launched a shocking comeback, recovering from 3-5 down in the final set to eventually steal the match 7-5 in the tiebreaker.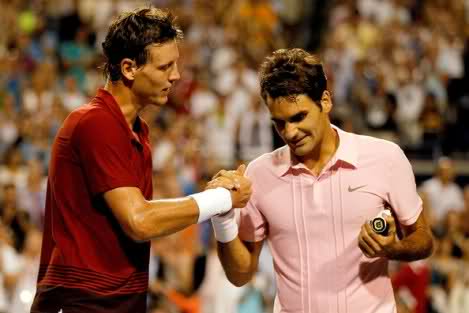 For Federer this is a huge win. Federer had already lost to Berdych twice this year - at Miami and of course Wimbledon. Since winning the Australian Open in January he has failed to win any title, even losing in the two ATP 250 events he entered. Federer was still far from his best for most of the match, shanking mid-court balls and allowing Berdych to tee off on the important points, but he showed great resolve to fight back and raise his level at the very end. It will be a massive confidence boost to him and it will be interesting to see whether he will be able to play much more freely (presumably) against Novak Djokovic tomorrow.
For Berdych it won't be a massive setback. He definitely did bottle it when serving for the match, missing a number of mid court balls by huge margins, but he is still looking good moving towards the US Open. After all, he can always comfort himself with the fact that he defeated Federer at Wimbledon! He really is establishing himself as one of, if not the cleanest ballstrikers on tour. The sound the ball makes on his strings is absolute perfection and technically he is so solid. He will undoubtedly continue to move up and there is no doubt that he is in with a chance at clinching a top 5 ranking if he continues to play at such a high level. He is seeded to meet Nadal in the quarterfinals at Cincinnati, so expect more fireworks there.
Also have to shout out to the Toronto crowd. By the end they were cheering Berdych's faults and unforced errors, talking as he served and just in general being absolutely classless. He should have taken a leaf out of Maria Kirilenko's book

Related posts: