Not that you need any more proof that the Montreal Gazette and Montreal Rogers Cup are run by two-year-olds, but here is some more!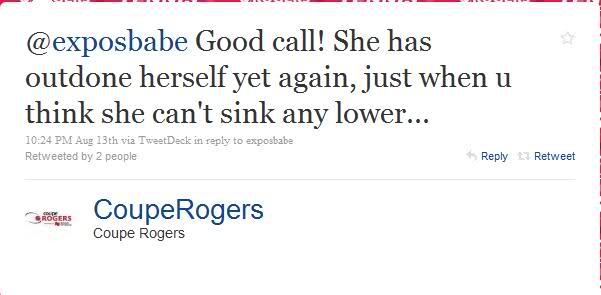 This was a reply from the Montreal Rogers Cup Twitter to a tweet mentioning Venus Williams' late withdrawal from the Rogers Cup in Montreal this week. While I do fully agree that Venus should have withdrawn from Montreal before the draw was made, is there any reason for the Montreal twitter page to publicly trash her? We don't know the situation behind the withdrawal - it could have been purely down to her trying her hardest to make it to the event before eventually having no choice but to withdraw. Venus only withdraws from events when she is genuinely unable to play and so I'd love for them to clarify what they mean when they say that she has "outdone herself" and "just when u thought she couldn't sink any lower".

Let's forget the fact that she 21-time Grand Slam Champion, 3-time Olympic Gold Medalist and all of her 3408392 other accomplishments. The reason she deserves respect because off-court she has done more for the sport than any other player since Billie Jean King herself. As the leading player representative she has helped countless players, tournaments and tennis-related organizations thoughout the years, and has never been guilty of 'sinking low' in any way, shape or form. So that tweet is nothing more than a childish sulk from those involved (allegedly the author from the Montreal Gazette).
But I guess we shouldn't be so harsh on them since they have no stars left and are still nursing their bruises from the smackdown Miss Ivanovic dealt them last week. Poor things!
(Photo from The Double Bagel)
Related posts: