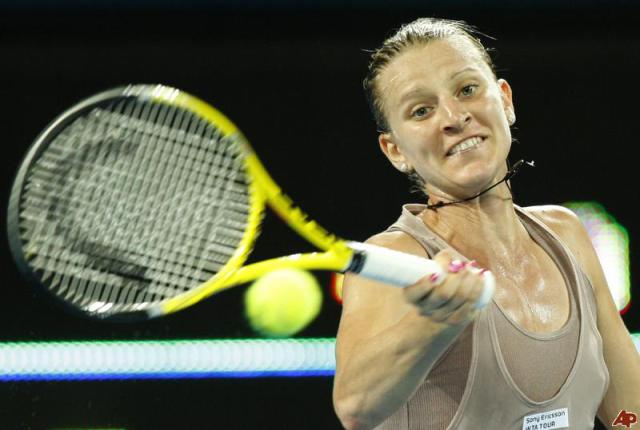 As night fell in Bulgaria's capital, a sickly sinister haze swept across its streets, swooping and swirling as it stole into every home, indiscriminately engulfing each inhabitant in turn and dragging them under some deathly trance. The clouds rapidly assembled with military efficiency, and before long were unleashing a torrent of showers; the rain drops seeking out every last millimetre of the city, leaving no spot untouched. The freezing night air carried with it the sound of rustling and scuttling and hooting and hawing as the deadly creatures of the night furiously rose at once. Eventually, however, the noise had given way to a even more suspicious silence, as the world appeared to freeze in grim anticipation of what was to follow.
In a flash, a slab of lightening slashed through the rain and the night sky, momentarily lighting up all that lay below. By the time the light was out, a solitary figure had appeared. A girl of no older than 15 or 16, her mouth slowly opened as her eyes panned up above. Everything happened at once. A crash of thunder erupted across the night sky, the creatures sprung up and roared, the skies rumbled once more, the citizens snapped back into life. Chaos reigned. And then those legendary, iconic words tumbled out of her mouth.
"I'll be back," she screamed, her voice piercing through the noise and drowning out every last sound as the words shook the city off its axis, as if consumed by a deadly earthquake. "And my return will be thunderous."
The girl was Sesil Karatantcheva, a young Bulgarian who, by 14 years old, had already flitted straight into the limelight with blistering pace. She was a prodigy, a candidate for the coveted category of Supernova – those increasingly rare players who seemingly burst out of the womb innately equipped with the weapons, talent and confidence to immediately succeed at the highest levels of professional tennis. Half-way through her fourteenth year on the planet, she had already eased through the junior circuit, triumphing in Roland Garros without the loss of a set before immediately declaring herself far superior to her age group and retiring from juniors forever. Her story, however, is best told through her own confidence-infused words.
"I started when I was five and a half. I'm telling you right now I hated tennis. I thought this is the most ridiculous, boring, unbelievable game anybody ever made in this world, okay? It wasn't even funny. I'm like, "Why am I wasting my time instead of going to the movies, playing with my friends?" Then when I started getting better eventually, you know, when I started actually winning some matches, it was like, "Hey, that's not that bad." People come tell you congratulations, parents are happy, you get everything you want, that's all I need. I was like, "Yeah, why not?" Basically like the age of seven, I start liking play tennis. By the age of nine, I start actually want to play more and more. When I got like the age of 11, I was like, "You know what, that's the thing I want to make my life with. That's the thing I'm going to prove I'm something in this world."
"Then when I was 11, my dad was always, by the age of 14, 15, need to prove in the pros that you're something. Then I decided start playing ITF. I did pretty well. I did pretty well, won a couple grade three tournaments when I was 11. Then when I turned 12, I decided when I like turned 13 to go play under-18. I got the ranking. I got into the main draw. Then last year — no, not the last year, the year before, December, I went to Eddie Herr. I didn't do good. I lost first round. But then I saw Nick. My dad was, "Go talk to people. Speak to him." I'm like, "Dad, that's Nick Bollettieri. You just don't go to speak to him; you have to have like a special request to go talk to him." I just went. I was like, "Mr. Bollettieri." He was like open, really nice. He was like, "Yeah, hello." I was like, "Whoa, really nice." I was like, "How much will cost for me to go to Bollettieri tennis academy?" He said, "Three weeks for free. I'm going to give you a scholarship, see how things going to go."
"I still don't know what I did. I still don't know what game I played then, but he liked it. He was like, "You can win everyone. You can have scholarship. I'll be coach. I'll travel with you." Then last year I decided to go start playing WTA tournaments. My first WTA tournament I won in Greece when I was 14. That's when I started. I won two more tournaments, one more 10,000, and then one 50,000. That was my big shot, when I won the 50,000 in China. Then I came back. You know, honestly from the whole academy, even how unbelievable it sounds, Nick the only one who thought I would win. Every single coach was saying, "She's too young. She's just 'boom boom,' she doesn't have anything in her head. All she knows is smack the hell out of the ball. No way she going to make it." So, you know what, I went, I made it. I came back. Nick was, "I knew you were going to make it." He supported me. Then I got offer from IMG to sign a contract. It was unbelievably excited. Now Nick is my coach. I have a contract with IMG. Everything's going good for me. I showed that I came here and I didn't screw myself up, I actually did something. I'm proud of it."
On the court, Karatantcheva's bread and butter was the ballistic backhand that had already demonstrated its immense versatility throughout her short career, producing searing up-the-line winners at will that left scorch marks on the white lines, the ball connecting with her racquet with a sound so right that it was like hearing a gospel choir in that final glorious crescendo. Invariably, a perfectly stroked angle would follow as she constantly nonchalantly demonstrated her talent to all onlookers. Forming a formidable bridge between offense and defense were those smooth and silky feet that enabled her to navigate the court with effortless speed. Attack and Defense. Defense and Attack. He game was honed on the grounds that spawned tennis' most abhorred acronym, BBBBB (Big Blonde Bollettieri BallBasher) but with a defensive edge that suggested that once she matured, learnt how to serve and understood the tactical aspect to the game, there was every chance she would thrive. But while her game required time to grow and evolve, her trash-talking was already at its peak. Famously, ahead of her Indian Wells match against fellow young Bollettieri-er Maria Sharapova, the Bulgarian sent shots straight at her Russian rival with formidable precision.
"You know what, that's the match I've waited for very long time. So, trust me, I won't play 100%, I'll play 200%…I was actually supposed to play in Bollettieri Tennis Academy (two weeks ago). I was so prepared. I mean, it was unbelievable. I was just, "Come on the court, you'll see what happen." Then I was, you know, talking to people. You know, I was really into the match. I was like, "You know, I'm going to get there and play my best tennis, I'm going to do everything I can." The day when we were supposed to play, two hours before the match, my agent comes and he goes, "She called it off." I'm like, "Why did she call the match off?" "Because you said you going to kick her ass off." I'm like, you know what, it's my business who I'm telling I'm going to kick his ass off or not. If I said it, I meant it, and I'm not sorry about it. If she's too scared to come on the court, her problem – her problem. I was like, "Whatever. I'm going to get you."
"Even then I said, "I'm going to meet you soon." It comes right next to me, right here. She can't call it off this time, that's for sure (laughter) […] I don't think that a player from her rank can call a match off only because somebody said it's going to kick her ass off. If she had the guts, she's going to come kick my ass off and leave."
"You know what, I say I'm going to play my best tennis. Normally when I do that, I beat people that are very good. You know, I believe in my game. I believe that my game is something I worked on a lot. I think that if I play it and if I concentrate a hundred percent on something, I can do something unbelievable tomorrow. I mean, that's the way I think. Yes, I do think I can kick her ass off. Yes, I do think that. I'm saying that, I can kick her ass off."
"I don't know (if she knows me). I mean, you know, who knows. I mean, if she's too scared come on the court play against me, hey, she must know me. […] I (saw Sharapova here). Not really charming. Not really charming. Not really charming. That's what I can say, not really charming (smiling)."
Although Sharapova's ass would remain intact, Karatantcheva's comments put herself firmly on the tennis map, and when she upset Venus Williams a year later at the French Open, the tennis world simply nodded in unison. But by year's end, it was all over. She tested positive for nandrolone, claimed that the positive test was the result of an aborted pregnancy at 15, served her two year ban before returning to a severely underwhelming comeback which has seen only a brief top 100 stint after 5 years, and now carries with her a truckload of "what ifs" to every new ITF event and WTA qualifying tournament she contests. But we'll always have Indian Wells.
Post sponsored by: iSyncSolutions